Instructors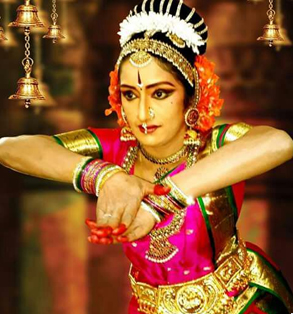 Seetha Madabhushi, Founder & CEO
Seetha Madabhushi is from a music loving family. She was named after maternal grandmother Smt. Sita Mudumbi who was also born into a highly cultured and musical family in Rajahmundry. Her maternal grandfather, Sriman Srinivasa Chary was a prominent lawyer who was also a highly-accomplished vocalist, veena player, and composer. Under her grandmother's guidance, Seetha learned the veena, Bharatanatyam dance, and Carnatic vocal music. She is grateful to her grandmother for instilling in her a passion for music and service.
Seetha was introduced to Bharatanatyam at a very young age when she watched her maternal aunt, Smt. Bhaskaram Mani Nallani Chakravartula perform. In fact, Seetha's first Bharatanatyam guru was another maternal aunt, Smt. Bhanumati Nallani Chakravartula. Under her guidance, she performed many ballets including Shadow play of Ramayan, Srinivasa Kalyanam, Sri Krishna Parejatam, and many Social dramas.
As she was building her Bharatanatyam repertoire, she was introduced to Kuchipudi dance by her sister, Smt. Alivelu Kandalam and her guru, Sri. Vedantam Prahladasharma garu. Seetha learned basics of Kuchipudi from Guru Sri. Vedantam Prahladasharma.
After immigrating to the United States. Performing a Rangapravesam remained a goal of hers since 1986. In 2000, Smt. Seetha garu found a new guru in Sri. Vedantham Raghava garu who continued her Kuchipudi training. On July 12, 2012, Smt. Seetha garu finally performed her Natya Rangapravesam, making her long-standing dream a reality.
Seetha has performed in many cultural programs in and outside Houston, Texas. Also given many programs in India.
Aside from music, Seetha worked as a Business/Project Analyst in Oil & Gas and in the Medical industry for 13 years. She earned her BBA from Houston Baptist University. Seetha has raised two kids: one is a doctor and married to an Attorney; her son graduated from college to go on to Medical School. She is married to a physician, Ranga Madabhushi.
---
Indradeep Ghosh, Artistic Director
Indradeep Ghosh is one of the premier violinists of India to play a unique, custom made five-string violin with eight sympathetic strings, similar to the Norwegian Hardanger fiddle and a trailblazer for the Seni Maihar Gharana.Over the years he has extensively performed throughout Europe and USA. He was featured in some notable events including the 10th Asia Festival in Barcelona, the YOMAD Festival in Croatia, Yoga—Vidya Music Festival in Germany, and the Memorial Concert for Chile in Koln to name a few. He was associated with several fusion bands including 'Rhythmscape' and 'Karma'.
He was involved in All India Radio and the National TV Channel in India. In 2016, he received Akademia Music Award for his album, Melodic Intersect: One Vision.
Indradeep is currently part of the guest faculty at the School of Indian Percussion and Music in Austin, Texas, and is associated with Global Creative Arts Academy, Inc. in Houston, Texas.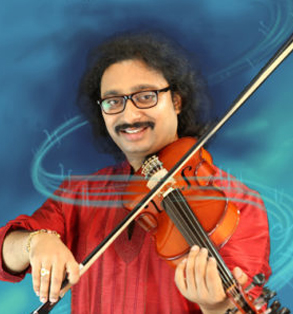 ---